Een auto huren in Parijs
Vergelijk het aanbod van autoverhuurbedrijven in Parijs en huur een goedkope auto voor uw vakantie in de stad van de liefde. Vergelijk online bij Autoverhuur controleren de prijzen van autoverhuurbedrijven in Parijs. Op deze manier kunt u gemakkelijk het huren van een auto van huis en hebben minder stress tijdens uw vakantie. Hoe eerder u boekt, des te goedkoper zijn meestal de prijzen voor huurauto's in Parijs. U kunt uw huurauto bijvoorbeeld direct na aankomst ophalen bij Airport Charles de Gaulle en uw reis door Frankrijk beginnen. In Prais zijn verschillende voertuig maten en categorieën, zoals kleine auto's, SUV's of familie bestelwagens beschikbaar voor verhuur. U kunt ook de stad ontdekken met een Roller.
De metropool van miljoenen aan de Seine is een van de populairste reisbestemmingen in Europa wereldwijd en biedt zich heerlijk aan om de reis te beginnen met de huurauto van Parijs. Het Louvre, de Eiffeltoren, de Arc de Triomphe en de Obelisk van Luxor zijn slechts enkele van de bezienswaardigheden waar bijna elke vakantieganger naar op zoek is. Maar Parijs heeft veel meer te bieden dan alleen de eerder genoemde hotspots. Als u het meeste uit uw verblijf in de stad van de liefde wilt verkrijgen, moet u zeker gaan op uw manier met uw eigen huurauto. Vergelijk met Autoverhuur Bekijk de autoverhuur aanbiedingen in en rond Parijs, selecteer de auto die bij u past, boek gemakkelijk online en bespaar op lange wachtrijen en uitverkochte auto's op luchthavens.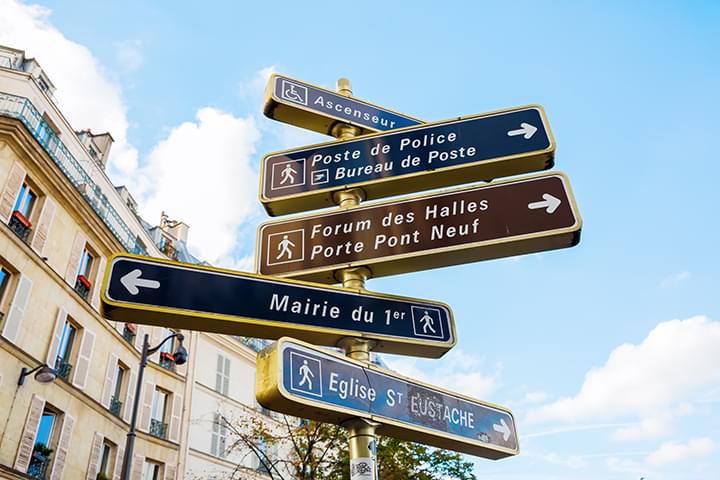 Wegwijzers in Parijs
Airport of in de stad - het geschikte ophaalstation in Parijs
Als u niet met de trein reist, zult u waarschijnlijk beginnen met uw stedentrip op een van de volgende luchthavens. Maar pas op! Als u uw vlucht nog niet geboekt hebt, is het de moeite waard het vergelijken van de huurautoaanbiedingen op de bovengenoemde luchthaven, als de aanbieders van huurauto's op de luchthavens bieden soms een kleine prijzenoorlog. Natuurlijk profiteert u ook van meertalig personeel op een luchthaven, wat bijzonder voordelig is als u zelf geen Frans spreekt. U kunt kiezen uit een slanke kleine auto, goed uitgerust midrange auto, comfortabel Luxuswagen of zelfs Familienvans de huurauto die het beste bij u past en op een spannende ontdekkingstocht in de stad van de liefde.
Luchthavens in en rond Parijs
| Luchthaven | IATA Code | Afstand |
| --- | --- | --- |
| Le Bourget | LBG | 14,9 Kilometer |
| Paris-Orly | ORY | 15,6 Kilometer |
| Paris-Charles-de-Gaulle | CDG | 24,8 Kilometer |
Ontdek Parijs en omgeving met uw eigen huurauto
Slechts één dag in Parijs is bij lange na niet genoeg om de mooiste kanten van de stad te leren kennen, want alleen al een bezoek aan de Eiffeltoren of het Louvre laat de uren voorbij vliegen. Daarnaast is er zoveel te ontdekken in en rond Parijs dat je idealiter een aantal dagen in en rond Parijs doorbrengt. De beste manier om alle bezienswaardigheden van de stad op uw eigen manier te verkennen is het huren van een huurauto, omdat u zich niet hoeft aan te passen aan het tempo van de rondleidingen en kunt uw reis plannen volgens uw eigen ideeën. Vanuit Parijs kunt u ook enkele