Ontdek Tenerife met uw huurauto
Vergelijk aanbiedingen voor Autohuur op Tenerife en vind de passende aanbiedingen. MietwagenCheck werkt samen met alle gerenommeerde autoverhuurbedrijven op Tenerife. Vind een goedkope Autoverhuur op Tenerife airport of op een andere bestemming op het eiland. Als u uw huurauto voor Tenerife bij u thuis boekt, bespaart u tijd en geld tijdens uw vakantie op de Canarische Eilanden. Heeft u vragen over autoverhuur op Tenerife? Aarzel dan niet om contact op te nemen met ons serviceteam via chat of telefoon!
Het Spaanse eiland Tenerife is het grootste van de Canarische Eilanden. Tenerife is 83,3 kilometer lang, tot 53,9 kilometer (oost-west omvang) breed en heeft een oppervlakte van 2034,38 vierkante kilometer. Met ongeveer 1.000.000 inwoners is Tenerife het dichtstbevolkte eiland van Spanje.
Net als Mallorca, trekt Tenerife jaarlijks duizenden toeristen van over de hele wereld: Tenerife trekt niet alleen prachtige stranden en historische schatten aan, zoals de oude binnenstad van La Laguna, maar ook met een indrukwekkende pracht van unieke natuurbrillen. Als u het eiland wilt verkennen dat bij Spanje hoort op eigen houtje en onafhankelijk van het openbaar vervoer, is het beste onderweg met een huurauto. Via MietwagenCheck vindt u niet alleen gemakkelijk een geschikte huurauto voor Tenerife, maar kunt u deze ook goedkoop boeken. Met de praktische vergelijkingscalculator kunt u uit verschillende aanbiedingen de beste voor u kiezen. Profiteer van de TÜV-gecertificeerde veiligheid en boek uw huurauto voor de gewenste reisperiode.
Autoverhuur Tenerife: Huur een auto na de landing
Het is bijzonder comfortabel om direct na de landing op het zonnige eiland Tenerife in de hoogwaardige huurauto van een betrouwbaar autoverhuurbedrijf te stappen. Dit is mogelijk op de twee luchthavens van het grootste vakantie-eiland van de Canarische Eilanden - Los Rodeos / Tenerife North (TFN) en Reina Sofia / Tenerife South (TFS). Toeristen kunnen hier spontaan een auto huren, maar het is aan te raden om de huurauto comfortabel en rustig van huis te boeken. In het zoekmasker voert u eenvoudig het gewenste vliegveld in als afhaalpunt voor de huurauto en gebruikt u het praktische overzicht om het beste aanbod voor u te vinden.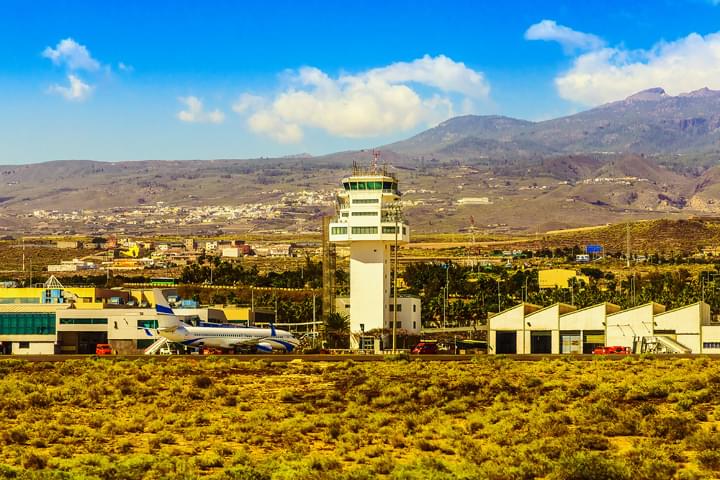 Tenerife Luchthaven (TFS)
Met een huurauto bereiken vakantiegangers niet alleen snel en goedkoop elk gewenst puntje van Tenerife, ondanks de grootte van het eiland: Met de snelwegen in het zuiden en noorden zijn er niet alleen twee goed ontwikkelde snelwegen, maar ook veel kleinere verkeerswegen die hen snel naar de hoofdstad brengen Santa Cruz de Tenerife, naar de pittoreske kusten of in het pittoreske binnenland. Dit is allemaal mogelijk met een huurauto - zonder dat u de vertrektijden van het openbaar vervoer hoeft te bestuderen en aandacht hoeft te besteden aan bestaande verbindingen.
Rentale auto Tenerife: Comfort begint bij de boot
Wanneer u land op de luchthaven uiterlijk, de huurauto van Tenerife auto huren betaalt voor zichzelf voor de eerste keer. Voor de transfer naar het geselecteerde hotel op het eiland Tenerife, hebben vakantiegasten geen taxi nodig, maar komen ze comfortabel aan in hun eigen huurauto, die gemakkelijk alle bagage in de kofferbak kan meenemen voor een leuke vakantie.