Roadtrip met een huurauto door de provincie Ontario
De Canadese provincie Ontario is een uitstekende plek voor een roadtrip met een huurauto. Of u nu met een kleine auto door de hoofdstad Toronto reist of SUV door de vele nationale parken - met een huurauto bent u altijd flexibel en onafhankelijk van het openbaar vervoer. Bij Car RentalCheck vindt u het juiste voertuig voor uw reis door Ontario. Vergelijk de aanbiedingen van de autoverhuurbedrijven vanuit het comfort van uw eigen huis en boek uw droomauto tegen de beste prijs vooraf online. Zo kunt u uw huurauto na aankomst in Ontario gemakkelijk ophalen.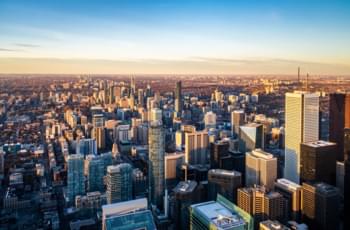 Uitzicht over Toronto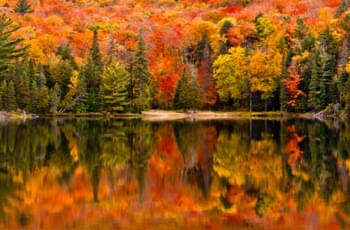 Herfstlandschap in Ontario
Nog vragen? Neem dan contact op met ons serviceteam. Wij helpen u graag verder.
Vooral voor jonge automobilisten is het huren van een huurauto in Duitsland een goede optie, omdat ze minder problemen hebben door hun leeftijd.
Autoverhuur Ontario: Waar kan ik mijn huurauto krijgen?
In de provincie Ontario kunt u uw huurauto ophalen in de hoofdstad Toronto en op vele andere locaties. Als u vanaf het eerste moment mobiel wilt zijn in Canada, raden wij u aan om een auto te huren op een van de luchthavens. Zo verliest u geen kostbare tijd met het wachten op het openbaar vervoer. Onder andere op de volgende locaties vindt u locaties voor uw huurauto:
De juiste verzekering voor uw huurauto in Ontario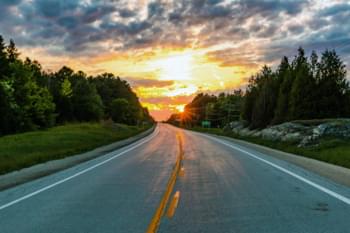 Met de juiste verzekering van Ontario
Het adembenemende landschap van Canada nodigt je vaak uit om tijdens het rijden uit het raam te kijken. De wegen in Canada zijn in een zeer goede en ongebruikte staat. Het komt echter vaak voor dat er dieren op straat staan. Vooral elanden houden van zonnen op de weg. Om deze reden moet u bijzonder voorzichtig zijn bij het besturen van een huurauto. Ondanks alle voorzorgsmaatregelen kunnen zich ongelukken of schade aan de huurauto voordoen. Om te voorkomen dat een dergelijk incident uw goede vakantiestemming vertroebelt, raden wij u aan om een volledige verzekering af te sluiten zonder eigen risico. Op deze manier heeft u ook in geval van schade geen verdere kosten en kunt u zonder stress van uw vakantie genieten.
De maximumsnelheden in Canada zijn 50 km/u op plaatsen, 80 km/u op landwegen en 100 km/u op snelwegen.
Wat betekent eenrichtingshuur eigenlijk?
Vindt u het ook vervelend om de huurauto terug te brengen naar de plaats waar u aan het einde van uw reis bent begonnen? Een roadtrip wordt gekenmerkt door het feit dat hij op de ene plaats begint en op een andere plaats eindigt. Om deze reden kunt u bij AutoverhuurCheck de optie voor eenrichtingsverhuur kiezen. Dit betekent dat u de huurauto ophaalt bij het autoverhuurbedrijf van uw keuze en deze gewoon terugbrengt naar een andere locatie. Zo kunt u flexibel naar alle gewenste bestemmingen in Ontario reizen en uw reis individueel regelen.
Dit zijn de plaatsen die u niet mag missen in Ontario.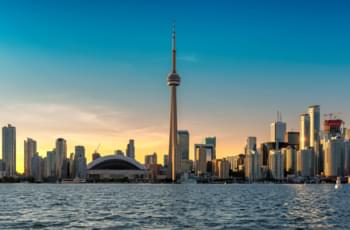 Toronto Skyline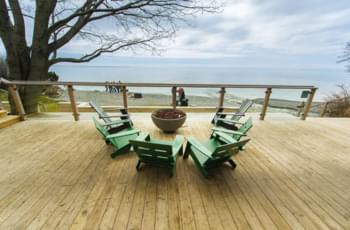 Prins Edward County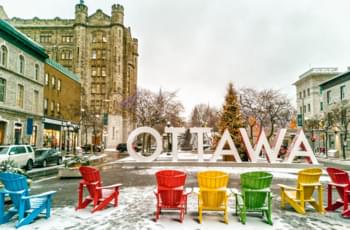 Onderweg in Ottawa
Toronto
Als u de hoofdstad van Ontario Toronto in uw eentje wilt verkennen, is een ritje met de huurauto een goede optie. Zo kunt u flexibel al uw gewenste bestemmingen bereiken. Als alternatief kunt u ook een fiets huren. Vanaf de Canadese Nationale Toren heb je een gigantisch uitzicht over de stad. Bij goed weer kun je zelfs van daaruit naar de top USA kijken. Wie van bier, lekker eten en geschiedenis houdt, mag het Distillery District niet missen. Het oude industriegebied in het oosten van het stadscentrum biedt talrijke restaurants, cafés en winkels. Trakteer uzelf op een kopje koffie en geniet van Toronto!
Prince Edward County
Prins Edward County
Prins Edward County is een van Canada's beste wijnbouwgebieden. U bereikt het gebied na ongeveer drie uur met een huurauto vanuit Ottawa. Hier kunt u genieten van heerlijke wijnproeverijen met talrijke wijnbouwers en kaasproeverijen. Op weg naar Prince Edward County huurt u een auto en passeert u prachtige stranden tussen de wijngaarden. Als u kiest voor een minibusje als huurauto, kunt u de tour met uw vrienden doen. De vakantie is dus twee keer zo leuk!
Ottawa
De Canadese hoofdstad Ottawa ligt direct aan het Rideau-kanaal en wordt vaak onderschat. Bezoek historische plaatsen, nationale monumenten en overheidsgebouwen. Om u daarna weer op te frissen, kunt u de beroemde en gevarieerde eetcultuur van Ottawa verkennen.
Activiteiten Ontario: Wat je kunt doen in Canada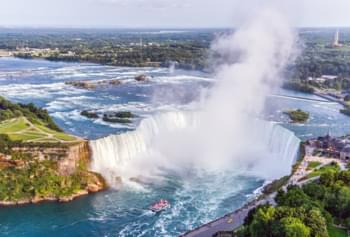 Uitzicht over Niagara watervallen
De provincie Ontario in Canada heeft voor elk wat wils. Hieronder vindt u enkele suggesties om ervoor te zorgen dat u zich niet verveelt.
Helikoptervlucht over de Niagara-watervallen
wijntour
speedboottocht
Zipline naar de Niagara-watervallen
Sightseeing tour naar de meest opwindende must-see meren in Toronto
Boottocht op het Rideau-kanaal
Huurauto naar de populairste nationale parken in Ontario
Pukaskwa National Park
Pukaskwa Nationaal Park
Het Pukaskwa National Park ligt in het noorden van Ontario. Het nationale park is maar weinig ontwikkeld en biedt u daarom een originele, adembenemende natuur. Geniet van de rust en stilte van oude bossen en dromerige meren. Met een beetje geluk ziet u elanden, zwarte beren, wolven en lynxen die typisch zijn voor dit gebied. Rijd met de huurauto comfortabel naar uw favoriete plekken en kijk uit naar de fantastische landschappen in het Pukaskwa National Park.
Fathom Five National Marine Park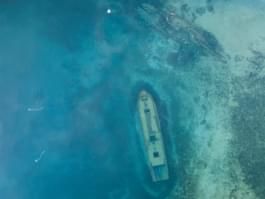 Bezoek het Fathom Five National Marine Park
Fathom Five National Marine Park is een marinereservaat dat grenst aan het Bruce Peninsula National Park in het zuidoosten. Het zeereservaat omvat talrijke historische scheepswrakken en drie vuurtorens. Maak een onvergetelijke wandeling en bewonder de bizarre rotsformaties, zeldzame orchideeënsoorten en bossen die direct aan de kliffen grenzen. Voor de avonturiers onder u is er een duik naar de scheepswrakken.
Algonquin Provincial Park
Algonquin Provinciaal Park
Algonqin Provincial Park is een van de mooiste parken in Ontario. Geniet van de rust en ruimte van de typisch Canadese natuur. Huur bijvoorbeeld een kano en ga op een tocht door de prachtige bossen. Pak een tent en alles wat je nodig hebt voor de komende dagen in en je bent er klaar voor. Steek enkele van de ontelbare meren met de kano over en maak elke avond een overnachting op een ander klein eiland. Op de meeste eilanden zijn er al kleine open haarden van vorige bezoekers. Informeer u voor uw tocht uitgebreid over Bear-Safty en vergeet niet 's avonds uw voorraad op te slaan in een van de kanovaten op een boom ver weg van uw kamp.
Is een roadtrip met een huurauto naar andere Canadese provincies de moeite waard?
Een roadtrip met een huurauto is altijd de moeite waard! Verken Ontario en andere Canadese provincies zoals Alberta, British Columbia en Quebec. Fascinerende nationale parken en spannende steden zoals Calgary of Vancouver wachten hier op je. Boek vandaag nog uw geschikte huurauto en kijk uit naar een onvergetelijke reis door Canada.