Ontdek Cuba met een huurauto
Cuba is een droombestemming: de Caribische sfeer ontmoet hier een groot cultureel aanbod. De mensen zijn vriendelijk en de natuur is absoluut indrukwekkend. Daarnaast is het eiland relatief beheersbaar en kan het tijdens een rondreis worden verkend. De beste manier om dit te doen is om je eigen auto te huren in Cuba: Als je zelf een auto huurt, ben je vrij en onafhankelijk in je planning en kun je de magie van Cuba zelf ontdekken. Wij zullen u vertellen welke bezienswaardigheden u in Cuba moet hebben gezien, welke routes hiervoor geschikt zijn en hoe u een goedkope autohuur in Cuba kunt vinden door de prijzen te vergelijken in AutohuurCheck, omdat wij de belangrijkste informatie over reizen en autohuur in Cuba voor u hebben samengesteld.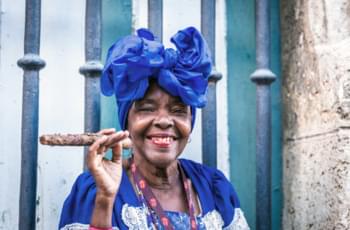 Vrouw met sigaar in Havana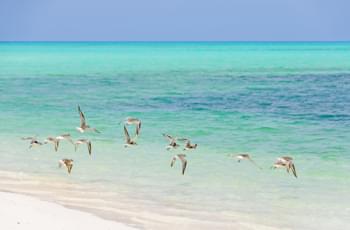 Cayo Levisa, Cuba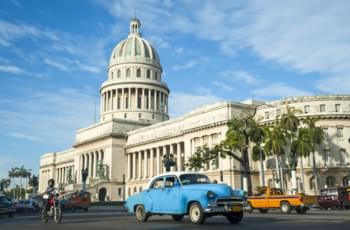 Capitool in Havana
Luchthavens in Cuba: Vanaf hier kunt u uw huurauto reis beginnen.
U vindt in totaal tien internationale luchthavens in Cuba. De belangrijkste drie staan in onderstaande tabel:
Autoverhuur rondreis Cuba: De vijf belangrijkste bezienswaardigheden
Havana
De hoofdstad Havana (ook wel "La Habana" genoemd) is de grootste metropool van het Caribisch gebied. Bezienswaardig is vooral de oude stad, die de charme van het "oude" Cuba uit de koloniale tijd zichtbaar maakt. Barokke en neoklassieke gebouwen zijn hier te vinden, evenals Art Decó-gebouwen. Bijzonder indrukwekkend zijn de kathedraal San Cristobál en het Palacio de los Capitanes Generales. Maar ook ver weg van de oude stad heeft Havana veel te bieden, bijvoorbeeld de promenade Malecón of de enorme prachtige begraafplaats Cementerio Cristóbal Colón. Deze plaatsen zijn gemakkelijk te bereiken met de juiste huurauto.

Met de Cabrio door Havana

Uitzicht over Vinales

Valle de Vinales
De Valle de Vinales is een nationaal park in het westen van Cuba en is een van de mooiste delen van het eiland. De indrukwekkende "Mogotes" - zoals de kegelrotsen in het Spaans worden genoemd - en de unieke vegetatie kenmerken het dal. Verschillende grotten bieden een koele schuilplaats op warme dagen. Een excursie met de huurauto naar de Valle de Vinales is absoluut aan te bevelen en voor velen al een integraal onderdeel van een reis naar Cuba.

Cienfuegos
Als u terug wilt gaan naar het Cuba van de koloniale tijd, dan bent u in Cienfuegos aan het juiste adres. Met ongeveer 170.000 inwoners is de stad niet erg groot, maar des te mooier. Het is niet zonder reden dat het ook "La Perla del Sur" ("De Parel van het Zuiden") wordt genoemd. De oude stad staat sinds 2005 op de Werelderfgoedlijst van de UNESCO en biedt architectonisch indrukwekkende gebouwen die zijn beïnvloed door zowel Spaanse als Franse immigranten.

Laguna del Tesoro
In het nationale park "Montemar" vindt men dit meer, waarvan de naam in het Duits "schatmeer" betekent - volgens een legende is daar een gouden schat verborgen. De rondrit over het meer, die u direct ter plaatse kunt boeken, is prachtig.

Alejandro de Humboldt Nationaal Park
Dit indrukwekkende nationale park staat op de Werelderfgoedlijst van UNESCO. Vooral de flora is onvergelijkbaar: ongeveer 80 procent van de meer dan 1.000 plantensoorten zijn endemisch - met andere woorden, ze bestaan alleen daar. Maar ook talloze bedreigde diersoorten, die alleen in Cuba voorkomen, zijn te vinden in het Humboldt National Park. De reis met de auto naar Baracoa is vrij moeilijk - maar het is de moeite waard. Vraag uw autoverhuurbedrijf naar de beste route.
Autohuur Cuba - Autoverhuur Cuba - Autohuur
Wij werken samen met verschillende autoverhuurbedrijven in Cuba. Selecteer eenvoudigweg de verhuurlocatie die het beste bij u past. De meeste voertuigen zijn meestal beschikbaar op de twee grootste luchthavens Havana en Varadero. Bij het huren van een auto in Cuba is het erg belangrijk om uw huurauto vroeg te boeken. Omdat de autoverhuurbedrijven in Cuba meestal alleen reserveringen accepteren voor voertuigen met een levertijd van meer dan een week.
Wij raden u aan om uw huurauto in Cuba tot drie weken van te voren te reserveren in het beste geval, maar minstens een week van tevoren.
Varadero: een vakantieparadijs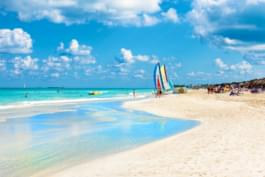 Strand in Varadero
Varadero ligt aan de noordkust van Cuba op het schiereiland Hicacos, ruim 120 kilometer ten oosten van Havana. De naam Varadero - wat in het Duits "reparatiedok" betekent - komt van het schiereiland, oorspronkelijk bewoond en bebost door indianen, van de scheepskapiteins die hier hun schepen voor reparatie brachten.
Met de auto naar wandelavonturen in Oost Cuba
Santiago de Cuba, de tweede grootste stad van het eiland, ligt in het uiterste oosten van Cuba. Hier moet u minstens twee dagen doorbrengen en de stad en omgeving met de auto verkennen. Vanuit Santiago kan men goed een dagtocht naar het Humboldt National Park plannen. Ook de moeite waard is het Nationaal Park Pinares de Mayarí met zijn indrukwekkende dennenbos en prachtige wandelpaden.
Indrukwekkende nationale parken en Caraïbische stranden: Tour in het Westen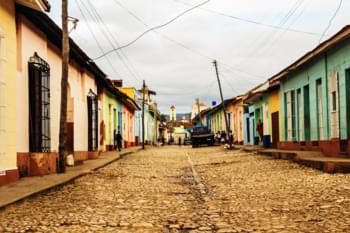 Onderweg in Trinidad
Vanuit Cienfuegos kunt u ook snel de koloniale stad Trinidad bereiken. De stad biedt een indrukwekkende oude stad, die behoort tot het UNESCO-wereldcultuurerfgoed. Vlakbij Trinidad ligt het beroemde strand Playa Ancon. Als u een auto huurt, moet u de kans nemen en genieten van dit strand met Caribische flair.
s Avonds kunt u genieten van de sfeer met een Cuba Libre en uw danspasje zwaaien in het Casa de la Música.
Huurauto Cuba: Planning van het reisseizoen
Een reis naar het Caribisch gebied is vooral geschikt in de winter, wanneer de temperaturen onder het vriespunt liggen. Maar dan zijn de vluchten navenant duur. Maar zelfs in het Europese voorjaar is Cuba de perfecte bestemming. Vermijd liever niet te reizen tussen juni en oktober: Want dan is het het regenseizoen met het gevaar van orkanen. Vooral in september en oktober is het orkaanseizoen. Aan de andere kant zullen degenen die van december tot mei naar Cuba reizen, beloond worden met fantastische tropische temperaturen van ongeveer 30 graden overdag en ongeveer 20 graden 's nachts.
Nuttige tips voor uw reis naar Cuba
Houd er rekening mee dat u een visum nodig heeft voor Cuba. Het is via de Cubaanse ambassade of een reisbureau.
Ook de moeite waard om te weten: Het eiland heeft zijn eigen munteenheid voor toeristen. Terwijl de lokale bevolking betaalt met Cubaanse peso's, is de munteenheid van de toeristen de "peso cubano convertible". Deze mag niet worden uitgevoerd, maar moet voor vertrek worden geruild.
Wanneer u met een huurauto reist, moet u zich ervan bewust zijn dat de meeste wegen in veel slechtere staat zijn dan de Europeanen gewend zijn. Rijd dus altijd voorzichtig en let op kuilen en dergelijke.
Huur een auto Cuba: Speciale aanbiedingen om te boeken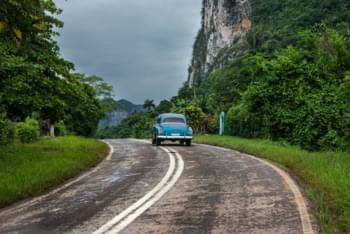 Met een huurauto door Cuba
Natuurlijk is het voor een autoverhuurbedrijf niet alleen belangrijk dat het goedkoop is. U moet er ook voor zorgen dat de verzekeringsdekking voldoende is. Wij raden daarom altijd de volledige uitgebreide verzekering aan - zodat u gedekt bent en ontspannen van uw Cubaanse reis kunt genieten. Een voldoende verzekerd bedrag is ook belangrijk. Ook hier is de online boeking weer in het voordeel. Als u ter plaatse een auto huurt, zijn de dekkingsbedragen vaak veel te laag ingesteld. Wanneer u naar het Caribisch gebied reist, geldt het volgende: boek uw huurauto altijd van tevoren. Meer interessante en nuttige informatie over het boeken van uw huurauto voor Cuba kunt u vinden op onze blog. Wij zullen u bijvoorbeeld informeren wanneer de beste tijd om naar Cuba te reizen is.
Autoverhuur Cuba: huur, retour en goedkope aanbiedingen
Waar u rekening mee moet houden bij het inleveren van een huurauto: Wanneer u uw huurauto terugbrengt naar het plaatselijke autoverhuurbedrijf, volgt u gewoon de contractregels die in de huurvoorwaarden zijn opgenomen. Of je nu je auto huurt op de luchthaven of op een ander station in Cuba, zorg ervoor dat je de plaats van terugkomst, het station, de tijd en de datum van terugkomst die in je individuele offerte staan vermeld, ontmoet. Begin zelf een prijsvergelijking en overtuig uzelf van onze gunstige aanbiedingen. Met je huurauto ben je flexibel en onafhankelijk in Cuba - dus je Cuba reis wordt een onvergetelijke ervaring!