Huur een auto op de luchthaven van Olbia OLB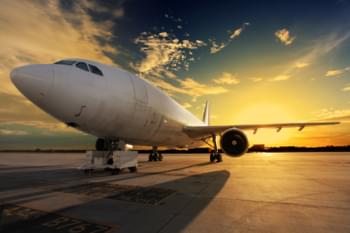 Luchthaven Olbia, Sardinië
Vliegt u naar Olbia airport (OLB) en wilt u Olbia en omgeving verkennen met een huurauto? Dan kunt u een goedkope huurauto direct op de luchthaven online boeken bij een van de meer dan 15 autoverhuurbedrijven van thuis uit.
Met Car RentalCheck, vergelijk het aanbod van autoverhuurbedrijven op Olbia Airport in termen van verzekering, accessoires en prijzen, en kies de auto die het beste past bij uw autoverhuur behoeften.
Met de Cabrio genieten van de zomer van 2019 in Olbia en omgeving.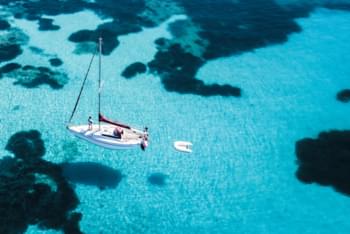 Geniet van de zomer in Olbia
Wat is er mooier in de zomer dan in een cabriolet langs de kust van Sardinië te rijden? Voel de wind in je haren, zet de muziek met zomerhits 2019 in je huurauto en geniet van Olbia in Sardinië. Met een huurauto bent u altijd flexibel en kunt u de mooiste stranden van Sardinië zelf ontdekken. In en rond Olbia vindt u kleine baaien met kristalhelder water en een fijn zandstrand. Hier kunt u heerlijk ontspannen, snorkelen en genieten van de zomer van 2019. Als u wat afwisseling wilt, kunt u 's avonds door de stad slenteren en genieten van de warme zomeravonden. Trakteer uzelf op een gelato in de haven van Olbia en ontdek de vele historische gebouwen.
Sardinië zal in de zomer van 2019 ook talrijke festivals en evenementen organiseren. Neem het stuur van uw cabriolet en rijd naar de volgende hoogtepunten:
Time in Jazz
Tijd in de jazz
Van 07-16 augustus 2019 vindt het belangrijkste jazzevenement in Sardinië en een van de belangrijkste in Italië plaats in Berchidda en de omliggende steden. Dans samen de nacht in en dompel jezelf onder in de Italiaanse flair.
Calici di stelle
Wijnliefhebbers opgelet: de Calici di Stelle is het meest populaire zomerevenement en vindt plaats op 10 augustus 2019 in Sennori. Proef de heerlijke regionale wijnen en andere lekkernijen van Italië terwijl u danst op goede muziek op straat.
Autunno in Barbagia
Tijdens dit evenement zullen 32 Sardijnse steden (waaronder Bitti, Dorgali en Oliena) hun deuren openen voor toeristen om hen een inzicht te geven in hun geschiedenis, cultuur en tradities. Het begint in september 2019. Parkeer de huurauto en vertrek te voet. Je zult het geweldig vinden!
Het station van de huurauto op de luchthaven - u moet er aandacht aan besteden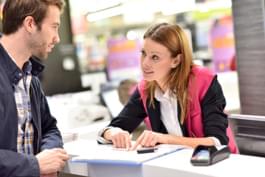 Hoewel een aantal internationale en regionale autoverhuurbedrijven hun diensten op de luchthaven van Olbia aanbieden, zijn niet alle autoverhuurbalies gevestigd in de aankomsthal of een ander gebouw op het luchthaventerrein. Integendeel, vindt u ook de verhuurstations in het centrum van de stad, dat is waarom u moet ervoor zorgen wanneer het huren van dat uw autoverhuurbedrijf u met een shuttle service biedt en waar u zal worden opgehaald indien nodig.
De juiste autohuur op Olbia Airport
Hieronder hebben we een aantal van de autoverhuurbedrijven opgesomd die u hun diensten vanaf Olbia Airport aanbieden:
raad
Ellepi
Europcar
hertz
Dat is goed om te weten: Hier zijn de benzinestations op de luchthaven Olbia
Helaas is er geen tankstation direct bij het vliegveld Olbia, maar er is wel een Q8 benzinestation in de nabijgelegen Via Roma in de richting van het stadscentrum, dat de klok rond geopend is. Zo kunt u uw huurauto daar voor de terugreis zonder grote problemen weer bijtanken.
Met de huurauto van Olbia airport naar het strand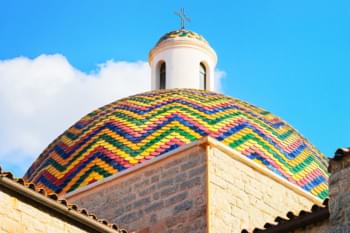 Chiesa di San Paolo Apostolo Apostolo in Olbia
Wilt u direct beginnen met de dromerige stranddelen met kristalhelder water in het noorden van het eiland? Dan heeft u een goede keuze gemaakt met Olbia Airport. Toch moet u af en toe een dag of twee gebruiken om met uw huurauto naar het centrum van Olbia te rijden, bijvoorbeeld om het archeologisch museum of het nabijgelegen zeemuseum te bezoeken. Ook een wandeling langs de Porto Rotondo is aan te bevelen. Het is ook de moeite waard om een omweg te maken naar de Chiesa di San Paolo Apostolo met zijn kleurrijke koepelplafond. Neem dus de tijd en verken de stad in je eentje. Als u een heen- en terugreis met uw huurauto plant, vindt u hieronder enkele kilometer- en afstandsinformatie die u kan helpen bij uw reisplanning.
Mietwagen-Ziele ab dem Flughafen Olbia
Autohuur bestemmingen van Olbia luchthaven
Ontdek Olbia en Sardinië met een huurauto
Het zou zonde zijn om uw vakantie op slechts één stuk strand door te brengen, want Sardinië met zijn vijf provincies heeft nog veel meer te bieden. Profiteer van de vrijheid die een huurauto biedt en verken het eiland langs de kustwegen of neem de S-vormige snelweg E25 naar Cagliari. U moet ook een bezoek brengen aan Alghero in de provincie Sassari, gelegen aan de westkust, met zijn Chiesa di San Michele, een van de mooiste plaatsen op Sardinië.
Gezicht op Alghero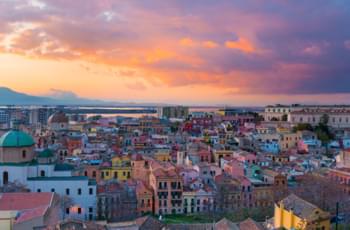 Gezicht op Cagliari
Welke bezienswaardigheden zijn er in en rond Olbia?
Hieronder hebben we een aantal bezienswaardigheden samengesteld die u zeker met uw huurauto moet bezoeken:
de gigantische graven in Santa Reparata...

het Nationaal Archeologisch Museum in Cagliari

het Romeinse amfitheater in Cagliari

de indrukwekkende Gola Gorropu-kloof bij Urzulei...

het Castello in Bosa

de Grotte di Nettuno in de provincie Sassari
Met de huurauto comfortabel van het vliegveld naar Olbia
Als u niet direct na aankomst in de gehuurde auto wilt stappen, ondanks uw korteafstandsvlucht, kunt u van maandag tot en met vrijdag het centrum van de stad bereiken met een bus die elke 20 minuten vanaf de luchthaven vertrekt en u voor een klein bedrag naar het stadscentrum brengt. U kunt ook een taxi nemen in de richting van het centrum van de stad om te ontspannen na uw aankomst.
Onze tip: Als u uw huurauto niet direct na aankomst wilt huren, bieden veel autoverhuurbedrijven ook de mogelijkheid om uw huurauto tegen een vergoeding bij uw hotel te laten bezorgen.