Experience Sardinië per huurauto
Sardinië, het op één na grootste eiland van Italië in de Middellandse Zee, is het best te verkennen met een huurauto. Het eiland trekt jaarlijks talloze toeristen uit Midden-Europa met fascinerende stranden, betoverend diverse landschappen, traditionele cultuur en interessante steden. Met het vliegtuig bent u slechts twee uur onderweg vanuit Oostenrijk om de wereldberoemde Sardijnse gastvrijheid te ervaren. Gebruik de prijsvergelijking en beveilig de beste aanbiedingen van autoverhuur in Sardinië door online te boeken.
Autoverhuur op de luchthaven en ervaring Sardinië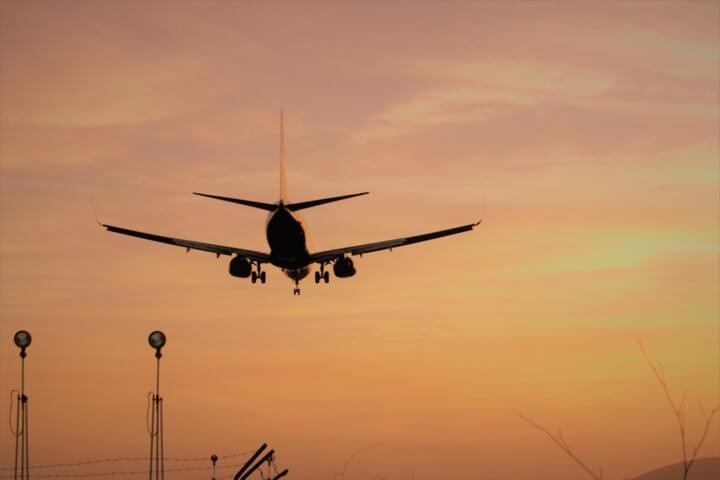 Luchthaven Sardinië IATA-code > Alghero AHO Cagliari CAG Olbia dtd>OLB
van Oostenrijkse vliegvelden zoals Airport Innsbruck of Airport Salzburg heb je drie vliegvelden op Sardinië tot je beschikking. U kunt bijvoorbeeld landen op Alghero AHO airport of op Airport Olbia OLB in het oosten. Bovendien is de Cagliari CAG Luchthaven beschikbaar in het zuiden. U kunt voor vertrek een geschikte auto huren op onze portaalsite, de overeenkomstige autohuur op de geselecteerde luchthaven staat voor u klaar om deze op te halen.
Een auto huren en overnemen in Olbia
Vanaf de huurauto op OLB airport is het slechts een paar kilometer naar de havenstad, als huurautobestuurder geniet u van de brede, goed onderhouden wegen. Olbia zelf is een zeer moderne stad, die een typisch Italiaans centrum met smalle straatjes heeft. Parkeer uw huurauto ideaal in de buurt van Corso Umberto en geniet van de culinaire aanbiedingen in de aantrekkelijke voetgangerszone . Natuurlijk wilt u meer van het eiland Sardinië zien en genieten van het strandleven aan de noordkust. In de granieten rotsachtige regio Galura ligt de vrij belangrijke Costa Smeralda, het dure vakantieparadijs op Sardinië.
Een auto huren in en rond Alghero
Sardinië is zeer veelzijdig en de diversiteit van de natuur kan bijzonder goed worden bewonderd in de regio Nurra. Het enige wat u hoeft te doen is een auto huren, overnemen op AHO airport en rijden naar Alghero . Hoewel de stad op Sardinië ligt en tot Italië behoort, kunnen de katalaanse wortels van de inwoners niet over het hoofd worden gezien. Als huurautochauffeur met enthousiasme voor historische gebouwen moet u de borden "Centro Storico" volgen, maar uw huurauto buiten de stadsmuren parkeren. Bijzonder de moeite waard is het Via Principe Umberto, vanwaar u in talrijke smalle steegjes kunt wandelen. In de oude binnenstad zijn veel historische gebouwen te bezichtigen en 's avonds nodigt de voorboulevard met typische Sardijnse restaurants uit tot een wandeling.
Vulling van de zon in Sardinië - Met een huurauto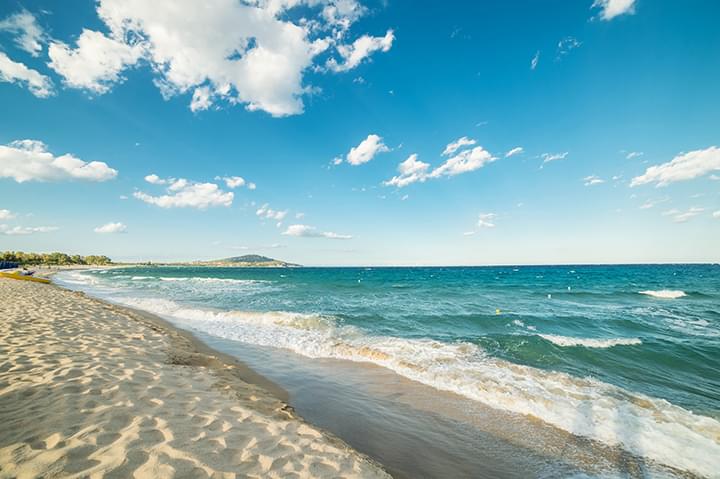 Het schilderachtige landschap maakt een auto huren de moeite waard, maar om te genieten van sandy stranden moet je rijden naar Porto Torres en Costa Paradiso. Kenmerkend voor het noordelijke deel van het eiland zijn de vaak harde en vlagerige wind, worden verhuur automobilisten aangemoedigd om hun rijstijl aan te passen. De langste stranden met het fijnste zand liggen echter ten zuiden van Olbia. U kunt een auto huren langs een goed ontwikkelde weg naar Costa Rei en genieten van de azuurblauwe zee bij Posada, Santa Lucia en Santa Maria Navarrese. Voor de baden plezier een excursie met een huurauto in zuidwest richting is een absoluut hoogtepunt is er de Costa del Sud. De mooiste duinstranden zijn te vinden in Baja Chia, een baai met diverse stranden. Om te zwemmen moet u met uw huurauto van Alghero in noordelijke richting naar Fertilia rijden, hier wachten eindeloze zandstranden op uw bezoek. Als u met een huurauto naar het zuiden rijdt, ervaart u één van de meest opwindende panoramische routes van Sardinië. Ten westen van Alghero ligt een andere waardevolle bestemming: het Porto Conte Nature Park.
De beste bezienswaardigheden van Sardinië met een huurauto
De Nettuno Grotto
La Maddalena Archipel
gola Gorropu kloof
De oude binnenstad van Cagliari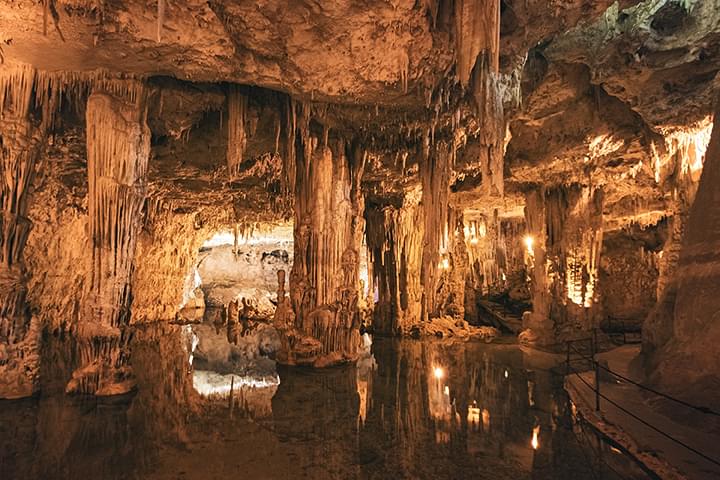 Grot van Nettuno Sardinië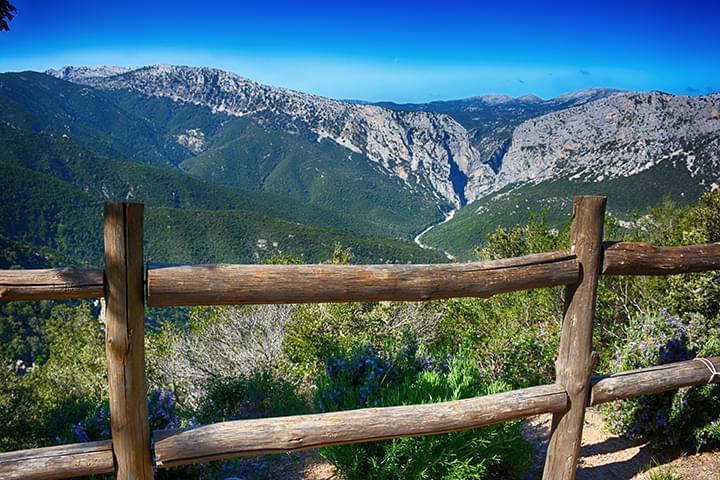 Gorgeola Gorropu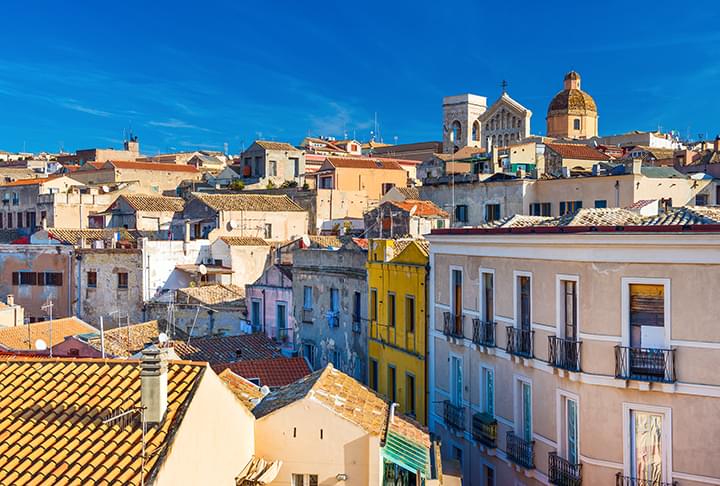 Cagliari Oude Stad
Natuurlijk, het eiland Sardinië biedt
strong> talloze andere bezienswaardigheden gewoon wachten om ontdekt te worden. Met de huurauto van een autohuur bereikt men dit zelfstandig en flexibel.
Een auto huren in het zuiden van Sardinië
U huurt een auto en haalt deze op bij de vliegvelden van Olbia, Alghero of Cagliari. Als u een huurautochauffeur brede en palmlinieerde boulevards en wilt historische gebouwen met prachtige gevels te bewonderen, moet je richting Cagliari. De stad van 250.000 inwoners presenteert alles wat u van een vakantie in Italië mag verwachten: equirky verkeer, kleine markten, cafés onder arcades en natuurlijk veel straatverkopers. Daarnaast zijn er vele historische gebouwen te bezichtigen in de oude binnenstad en kunt u het beste uw huurauto parkeren in de buurt van Via Roma.
Een auto huren op Sardinië
Als Italiaanse fan heb je waarschijnlijk al gemerkt dat lokale automobilisten vaak emotioneel in beweging zijn en klagen over files of andere weggebruikers met hard toeteren. Voor veel mensen zijn verkeersborden niet meer dan straatdecoraties en ze willen uitkijken voor de anderen. Hetzelfde scenario wacht op u op het eiland Sardinië. Als een huurauto bestuurder, moet u niet onder de indruk, niet reageren op een vergelijkbaar niveau, en in uw eigen belang, volg de verkeersregels. Anders kan uw voornemen om een auto te huren tegen een redelijke prijs worden vertroebeld door hoge boetes.
<De belangrijkste verkeersregels op Sardinië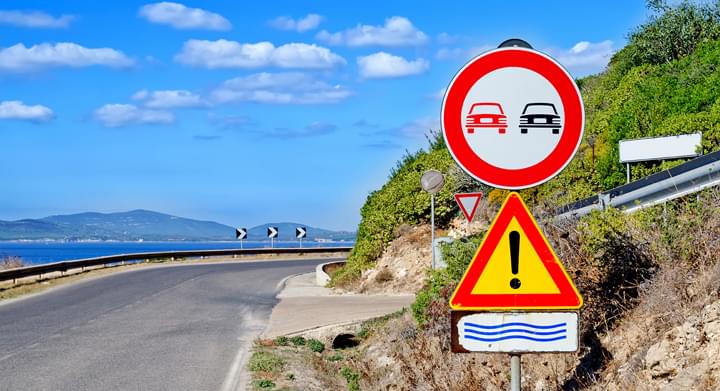 belangrijk Traffic rules in Sardinië:
alcohol limiet is 0,5 per mille

Dimmen licht ook overdag ingeschakeld

Ban op zwartgele stoepranden

Een waarschuwingsvest moet worden gedragen

Hone-gesprekken alleen via handsfree