De geheimen van San Francisco met een huurauto
De unieke sfeer van San Francisco is het resultaat van de nabijheid van de oceaan, de iconische heuvels die de achtergrond van de stad vormen, en de wereldberoemde Golden Gate Bridge over de San Francisco Bay Area. De stad is vol met historische gebouwen, geestverruimende musea en kunstgalerijen, groene parken en wandelpaden, en interessante architectuur-alles waardoor het een juweel van Noord-Californië is.
Naast de vele attracties die kunnen worden gevonden in San Francisco zelf, is het ook een geweldige toegangspoort tot andere regionale juweeltjes te ontdekken. Het is omgeven door een prachtig landschap gecreëerd door de prachtige baai van San Francisco en de wilde wateren van de Stille Oceaan.
Tijdens het verkennen van de vele bezienswaardigheden van San Francisco, zal Driveboo zeker van pas komen door vooraf via de handige online-checker, de aanbiedingen van alle lokale autoverhuurbedrijven te bekijken en direct te boeken om verrassingen te voorkomen bij het ophalen van de huurauto.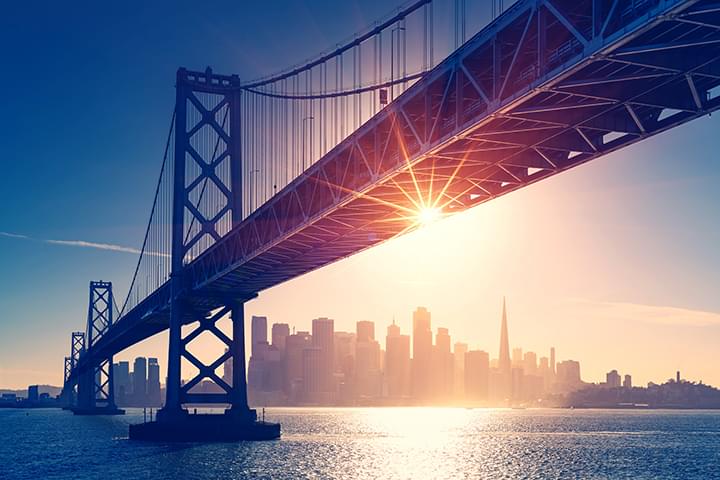 San Francisco
Wat is de beste tijd om naar San Francisco te reizen?
De beste tijd om naar San Francisco te reizen is van september tot november. De herfst is de perfecte tijd voor sightseeing, omdat het seizoen aangename temperaturen biedt en ook minder drukke straten. U kunt ook een bezoek brengen aan de stad in het voorjaar van San Francisco, want dit seizoen wordt gekenmerkt door een gebrek aan regen en mild weer.
Vind uw huurauto voor een reis rond San Francisco
San Francisco is letterlijk vol autoverhuurbedrijven. Er is een overvloed aan voertuigen om uit te kiezen. Daarom kan het huren van een auto lijken als een ontmoedigende uitdaging. De gemakkelijkste manier om het te doen is door het huren van een auto op de luchthaven.
De dichtstbijzijnde luchthaven van het stadscentrum is natuurlijk San Francisco Airport (SFO), gelegen op 20 km. Veel reizigers kiezen er echter ook voor om te arriveren op de luchthaven van Oakland (OAK), gelegen op 20,9 mijl (34 km) van San Francisco.
Heb ik een internationaal rijbewijs nodig om een auto te kunnen huren in San Francisco?
Gelukkig hebben de VS met de meeste EU-landen een overeenkomst gesloten. Deze overeenkomst is een garantie dat uw nationale rijbewijs genoeg is om u te verplaatsen rond San Francisco in een huurauto.
Echter, sommige autoverhuurbedrijven eisen dat hun klanten een internationaal rijbewijs hebben, dus het is beter om dit vooraf te checken in de voorwaarden van de verhuurder die u kiest via onze website. U kunt dit natuurlijk ook altijd aan ons vragen via mail, chat of telefoon. Dit om te voorkomen dat u bij het ophalen van de huurauto deze niet meekrijgt.
Op meerbaans-snelwegen is de maximumsnelheid 105 km/u.
Op tweebaanswegen is de maximumsnelheid 90 km/u.
De snelheidslimiet die je op straten in de stad in acht moet nemen is meestal 55 km/u.
Het is belangrijk om te onthouden dat woonwijken en gebieden rond scholen verschillende snelheidslimieten hebben: dit is meestal 40 km/u.
Aanvullende informatie over het rijden rond San Francisco
De Californische wet verbiedt het schrijven, verzenden en lezen van sms-berichten tijdens het rijden.
Chauffeurs mogen handsfree-apparaten gebruiken terwijl ze telefoneren.
Om een ongeval te melden of hulp te krijgen, dient u contact op te nemen met 911.
Bestuurders en passagiers moeten een veiligheidsgordel dragen.
Drinken en rijden wordt beschouwd als een van de ernstigste overtredingen in Californië.
De alcohollimiet in het bloed is 0,08%.
In Californië zijn er carpoolstroken die herkenbaar zijn aan een speciaal ruitvormig patroon dat op de weg is geschilderd. Kijk op de zwart-wit borden die u informatie geven over wanneer u deze banen mag gebruiken (meestal op doordeweekse dagen tijdens de spitsuren). Deze uren moeten te allen tijde in acht worden genomen. Houd er echter rekening mee dat er ten minste twee personen (inclusief de persoon die het voertuig bestuurt) in de auto aanwezig moeten zijn.
Vergeet niet, sommige carpool rijstroken in de San Francisco Bay Area hebben een minimum van drie personen.
Het gebruik van de rijstroken wanneer u niet het vereiste aantal passagiers zal resulteren in hoge boetes van maximaal $ 400.
Carpoolstroken in Californië beschikken over specifieke in- en uitrijzones die eveneens in acht moeten worden genomen.
Rijden met een huurauto achter een schoolbus
Wanneer u in de VS rijdt en één van de beroemde gele schoolbussen voor u ziet, moet u stoppen zolang de chauffeur het stop teken aanheeft. Inhalen, zelfs in een trager tempo, is niet toegestaan en is strafbaar met hoge boetes.
Hoogtepunten van San Francisco met huurauto
San Francisco geniet van een prachtige locatie tegen de achtergrond van dramatische oceaan en biedt een breed scala aan attracties, wordt beschouwd als een van de top bestemmingen in Californië. Tijdens een bezoek aan de stad, kunt u niet missen de volgende hoogtepunten:
De Golden Gate brug
Eiland Alcatraz
Fisherman's Wharf
Kabelbanen
Golden Gate Park
Chinatown
Californië Academie van Wetenschappen
San Francisco
Verken de mooiste plekjes rond San Francisco met een huurauto
Neem afscheid van San Francisco en ga naar de eindeloze zomer van Santa Cruz. Deze badplaats voorziet in de behoeften van zelfs de meest veeleisende strandliefhebbers. Maak een wandeling langs de beroemde Beach Boardwalk en breng een paar uur door op Main Beach. Meer afgelegen stranden zijn Natural Bridges Beach, Sunset State Beach en Cowell Beach.
Berkeley is een andere must-see Californische stad. Deze universiteitsstad biedt een prachtige campus gelegen op een schilderachtige heuveltop. Bezoekers hebben ook een unieke kans om de prachtige architectuur van de stad en de vele bibliotheken, onderzoekscentra en galerijen te bewonderen. U moet zeker op zoek naar sites zoals Sather Tower, Bancroft Library, of Sproul Plaza.
Voor wie van eenzaamheid houdt, is Half Moon Bay een grote ontsnapping aan de sfeer van de grote steden. Een landelijke retraite gelegen langs de bruisende Stille Oceaan, Half Moon bay is te vinden op slechts een steenworp afstand van het stadscentrum van San Francisco. De stad biedt pittoreske paden, wandelpaden, en goede weersomstandigheden voor degenen die willen proberen te leren surfen. Veel populaire surf evenementen en wedstrijden worden gehouden op Mavericks Beach.
Wie de roep van een grote metropool niet zat is, moet ook een uitstapje naar Los Angeles overwegen. De beroemde 'Stad van Engelen' met zijn bruisende Hollywood wijk en vele uitgaansgelegenheden zal een ideale plek zijn voor een dag vol plezier.