Ontdek Turkije met een huurauto
Turkije is de laatste jaren uitgegroeid tot een van de meest populaire toeristische bestemmingen. Maar Turkije heeft niet alleen voor strand- en badgasten iets te bieden. Steden zoals Antalya hebben ook veel culturele hoogtepunten die de moeite waard zijn om te zien. Het land is rijk aan culturele bezienswaardigheden die gemakkelijk kunnen worden bezocht met een huurauto.
Autohuur in Turkije
Vergelijk autoverhuurbedrijven in Turkije met Autoverhuur Check. Als u met het vliegtuig aankomt, is het de moeite waard om de huurauto direct af te betalen. Huur bijvoorbeeld een auto op de luchthaven van Antalya. Excursies naar de opgravingen in Troje of Ankara kunnen comfortabel en zonder problemen worden uitgevoerd met een huurauto. Maar ook de Turkse Rivièra is gemakkelijk te verkennen met een huurauto. Met een huurauto kunt u mooie en weinig bezochte stranden ontdekken.
Welke luchthavens zijn er in Turkije?
Met de huurauto naar het oosten van de Middellandse Zee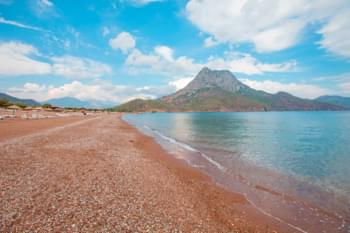 Met de auto naar de zee
Vooral op het platteland is voorzichtigheid geboden bij het huren van een auto, omdat daar vaak slechte wegomstandigheden en kuilen kunnen voorkomen. Het gebruik van de claxon is al een alledaagse gebeurtenis voor de lokale chauffeurs. Als de claxon van uw auto voor de bocht klinkt, moet u gewaarschuwd worden en niet inhalen in de bocht met uw huurauto. Volgens de Turkse vriendelijkheid hoeft men niet alleen in Turkije de gehuurde auto bij te tanken, dit neemt daar de tankbediende over.
Auto huren Turkije: de verkeersregels
De verkeersregels in Turkije zijn vergelijkbaar met die in Duitsland. Er zijn echter enkele bijzondere kenmerken: let op het kruisende verkeer bij een groen verkeerslicht en gebruik de claxon. De Turken toeteren graag met de hoorns, zodat de bestuurder alleen de aandacht op zichzelf wil vestigen, bijvoorbeeld bij het inhalen. Autobus- en touringcarchauffeurs LKWzijn voorzichtig, omdat ze onder enorme tijdsdruk staan. Gevaarlijke plekken zoals kuilen zijn vaak nauwelijks gemarkeerd en kunnen daarom over het hoofd worden gezien. s Nachts zijn de voertuigen vaak helemaal niet of onvoldoende verlicht.
Overzicht van de verkeersregels in Turkije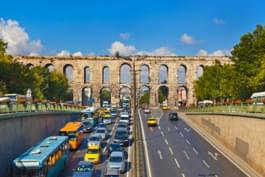 Wegverkeer in Istanbul, Turkije
Groene verzekeringskaart: verplicht
rechts verkeer
Alcohol, per mille limiet: 0,5 per mille voor PKW, voor alle andere voertuigen 0,0 per mille.
Verlichtingsverplichting: Nee
Verplicht veiligheidsvest: Nee
Gordel verplicht: Ja
Draagplicht: verenigingspakket, 2 waarschuwingsdriehoeken, waarschuwingsvest en brandblusapparaat
Welke snelheidslimieten gelden er in Turkije?
Binnensteden: 50 km/h
Buiten de stad/vluchtweg: 90 km/u
Snelweg: 120 km/u
Vertaling van de Turkse tekens