Reis door Zuid-Afrika met een huurauto
Ga je binnenkort op vakantie naar Zuid-Afrika dan staat je een vakantie vol met hoogtepunten te wachten. In de vele wildparken hoop je natuurlijk de big 5 te spotten. Je reis begint waarschijnlijk in Johannesburg of Kaapstad. Een wereld van verschil zit er tussen deze steden, maar beide zijn de moeite waard om een paar dagen door te brengen. De diversiteit van dit Afrikaanse land maakt het zo'n aantrekkelijke bestemming. Van hoge bergen tot aan het strand en van safaritochten tot aan een wijntour. In Zuid-Afrika kun je het allemaal beleven. En om van het ene naar het andere hoogtepunt te komen is een huurauto de beste optie!
Regel eenvoudig je huurauto op het vliegveld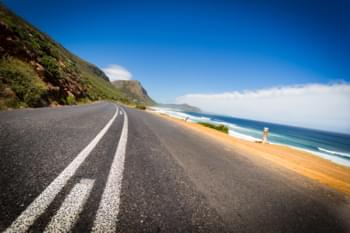 In de meeste gevallen zal je op de luchthaven van Johannesburg of Kaapstad aankomen voor je aanstaande avontuur. Beide steden zijn ook perfect voor de start van je roadtrip. Op beide luchthavens kun je snel en makkelijk de juiste auto reserveren. Zo stap je gemakkelijk zonder zorgen vanuit het vliegtuig je huurauto in en kun je meteen op pad. Let wel even op wat je precies met de auto wilt gaan doen in Zuid-Afrika. Je kunt een auto in verschillende categorieën huren. Ben je van plan om ook off road te gaan rijden of in een wildpark te verblijven, kies dan voor een wat meer robuustere auto die wat hoger op de wielen staat. De wegen in Zuid-Afrika zijn niet altijd even toegankelijk, dus een goede auto is zeker aan te raden. Je kunt trouwens ook op de wat kleinere luchthavens je auto ophalen of terugbrengen, zoals bij de luchthaven van Durban.
Rijd de mooiste route met je huurauto vanaf Johannesburg
Een van de meest gereden routes vanaf Johannesburg is via de Panoramaroute en het Kruger Park richting Durban rijden. De Panoramaroute is een route die niet mag ontbreken tijdens je roadtrip. Deze route loopt langs verschillende bezienswaardigheden en uitzichten, dus trek er zeker een paar dagen voor uit. Na de Panoramaroute is het tijd voor een safari. Je bent al vlakbij het Kruger Park dus je kunt ervoor kiezen om hier een paar dagen te verblijven. Een andere optie is om te kiezen voor een van de vele private wildreservaten. Beide opties geven je de gelegenheid om het iconische wildlife van Afrika met eigen ogen te gaan zien. Reken maar dat je even slikt als er een olifant langs je auto loopt. Je kunt er vervolgens voor kiezen om richting Durban door Swaziland te rijden. Voor je in Durban aankomt verblijf dan nog een paar dagen in St Lucia. Ook hier heb je weer de mogelijkheid om wilde dieren te spotten in het Hluhluwe-Imfolozi Park of iSimangaliso Wetland Park. Spot hier bijvoorbeeld ook krokodillen en nijlpaarden, dieren die je misschien op safari nog niet gezien hebt.
Liever op safari in een malariavrij gebied? Rijd dan met je huurauto 2,5 uur noordwaarts vanaf Johannesburg richting het Welgevonden Game Reserve. Ook hier spot je gewoon de big 5!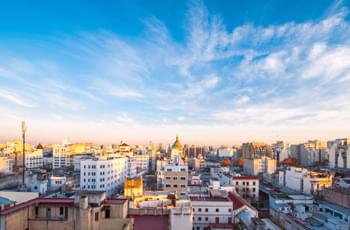 Johannesburg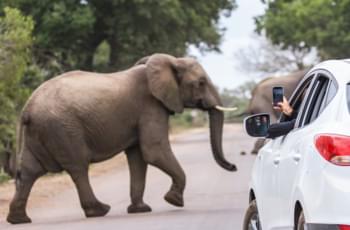 Kruger Park
Op pad met je huurauto vanaf Kaapstad
Vanuit Kaapstad rijd je allereerst richting het Kaapse schiereiland. Echte wijnliefhebbers moeten vervolgens zeker stoppen in Stellenbosch, het hart van het Afrikaanse wijntoerisme. Pak vanaf Stellenbosch de Whale Coast Route die direct langs de kust loopt. Stop onderweg bij Betty's Bay, want wist je dat er ook pinguïns in Afrika leven? Hier vind je een hele kolonie van deze vrolijke beestjes. Tot aan Port Elizabeth zijn er nog zoveel mooie plekken om te stoppen. Verschillende nationale parken, zowel groot als klein, zullen je pad nog kruisen. Ben je in het juiste seizoen dan zul je ongetwijfeld een mooi strand tegenkomen waar je heerlijk kunt uitrusten van je roadtrip.
Om tijd te besparen leggen veel mensen de afstand tussen Port Elizabeth en Durban af met het vliegtuig. Heb je echter genoeg tijd maak dan de hele roadtrip met je huurauto van Johannesburg naar Kaapstad of andersom. Zeker een van de mooiste roadtrips die je in je leven gaat maken!
De verkeersregels in Zuid-Afrika
De belangrijkste regel is dat ze in Zuid-Afrika aan de linkerkant van de weg rijden. Dit is even wennen in het begin, ook in de huurauto zelf zit alles namelijk net andersom. Om het een stukje makkelijker te maken zou je eventueel een automaat kunnen huren. Houd je aan de snelheidslimiet om een (hoge) boete te voorkomen. Binnen de bebouwde kom mag je 60 km/h, daarbuiten 100 km/h en op de snelweg 120 km/h. Als je wordt ingehaald en je bent netjes aan de kant gegaan, schrik dan niet als de auto zijn alarmlichten aandoet. Dit is een gebaar om te bedanken dat je aan de kant bent gegaan.