Huurauto Afrika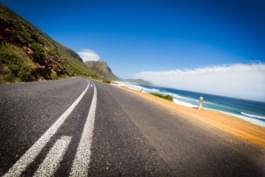 Het rijden door Afrika met een huurauto is een indrukwekkende ervaring, vooral voor avontuurlijke reizigers. Voor uw ontdekkingstochten in Afrika biedt MietwagenCheck u hoogwaardige huurauto's van verschillende modellen en voertuigtypen op alle belangrijke Afrikaanse luchthavens, zoals Kaapstad (Zuid-Afrika), Nairobi (Kenia) of Casablanca (Marokko) en vele andere populaire bestemmingen. Selecteer eenvoudigweg uw gewenste verhuurlocatie uit het grote aantal aangeboden stations en plan uw reis individueel en volgens uw wensen.
Ontdek de bezienswaardigheden van Afrika met een huurauto
Het op een na grootste continent op aarde biedt een ongelooflijke verscheidenheid aan landschappen, diersoorten en culturen. Of het nu gaat om de Kilimanjaro in Tanzania als hoogste berg van Afrika, de kleurrijke drukte in Kaapstad rond de beroemde Tafelberg of de overweldigende Victoria Falls op de grens tussen Zambia en Zimbabwe - met een huurauto bent u altijd zelfstandig in Afrika en kunt u zelf uw eigen reisroute bepalen, onafhankelijk en volgens uw wensen. Safari's door de vele nationale parken van Zuid-Afrika kunnen ook worden ondernomen met uw eigen huurauto. Voor een geplande tocht door de wildernis kunt u het beste een voertuig met vierwielaandrijving of direct een terreinwagen met voldoende bodemvrijheid huren.
Waar u op moet letten bij het huren van een auto in Afrika
Het wegennet is buiten de grote metropolen niet erg druk en nodigt u uit voor uitgebreide ontdekkingstochten door het indrukwekkende landschap van Afrika. Zorg er bij het huren voor dat er in sommige landen een linksgestuurd bod is. In Tunesië, Marokko en Ghana bijvoorbeeld, zoals in Duitsland, rijdt de chauffeur aan de rechterkant van de weg, terwijl in Zuid-Afrika, Namibië en Zambia de chauffeur aan de linkerkant rijdt. Voor huurauto's in landen met links verkeer bevindt het stuurwiel zich dan ook aan de rechterkant. Neem indien mogelijk een Engels leesbaar rijbewijs of een internationaal rijbewijs mee om problemen bij het huren van een auto in Afrika te voorkomen. U moet er ook rekening mee houden dat in sommige delen van Afrika tol moet worden betaald voor wegen en grensovergangen.